Bookmarked by Scott Gavin:
Shared by Scott

Here's a really good checklist by Cathy Moore looking at the evaluation of e-learning content.
Do you want a checklist you can use to evaluate elearning? Here's my contribution (PDF).
I'm calling it a checklist because several people have asked for one, but it's not really a checklist. Instead of checking a box to say, "Yup, got that covered!" you choose a spot on a spectrum between "action-oriented materials" and "information dump."
There are 14 items to evaluate. Once you've rated them all, you can glance down the "spectrum" column to see which items are closest to the dreaded "information dump" and therefore need the most work.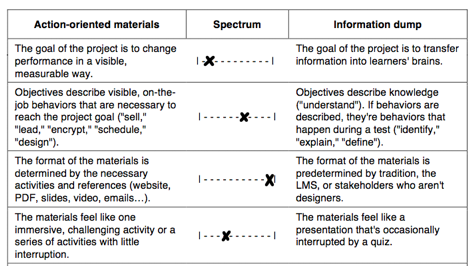 This range-finding approach acknowledges that we're all facing forces that push us toward information dumps. My goal is to suggest specific items to assess and discuss as we move stakeholders closer to the "action-oriented" side of the chart.
The tool can also be used to clarify what I intend to be the end result of action mapping. For example, if a client asks for an "action mapped" course, show them the chart. If they say, "Yes, I want everything on the left side of the chart," then they understand the goal of action mapping and will probably buy in to the design process.
Please feel free to share the checklist. Please also post your suggestions for changes in the comments section below or send them to me at the email address shown in the About page of the blog. Thanks!